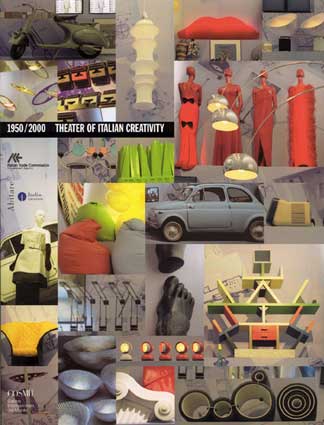 Project and Exhibition Design
_______Gae Aulenti with Vittoria Massa

Image Identity
_______Pierluigi Cerri

Scientific Director
_______Vanni Pasca

Artistic Director
_______Franco Laera

Sound Track
_______Stefano Scarani

Lighting Design
_______A.J. Weissbard

Video Research
_______Federico Del Prete

Consultants
_______Felice Cappa, Tatti Sanguineti

General Coordination
_______Franco Gabualdi, Valentina Tescari, Andrea Petrus

Art Handlers
_______Sue Jane Stoker, Marco Zecchini

Production
_______Change Performing Arts

EXPOSITION
ICE, Cosmit
Change Performing Arts

Gallery at 545 West 22nd street, New York
October 10-26, 2003



the sound track


Soundtrack is composed by an elaboration of a short fragment of Monteverdi's "Lamento di Arianna". This is the soundscape (sound-landscape) where the promenade starts, represented through music and sound of a world-recognized historical memory elements.
The composition dissolving, transforming, changing in a methamorphosis with the original -ever presents- elaborated fragment, to create a continuum between time and space.

The visitors localize the "time" into the "space" of the exposition, through a twenty-four player audio system connected to the light.